Coriander wholesale from 100 to 1000 metric tons
Wholesale requests:
+7 (928) 191-00-45
Dr Vladimir Chernikov,
General Director.
Only Russian, for English call:
+7 (926) 686-26-92
Mr Dmitriy Panasenko
International Business
Office in Orlovsky settlement:
+7 (86375) 3-29-11
Please call Mon-Fri working hours.
Storage facilities in Orlovsky:
Russia, Rostov region, Orlovsky settlement, Komsomolskaya str.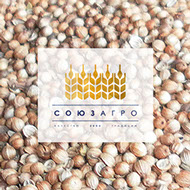 Upon request RUR / MT (EXW Orlovsky, Rostov region)
Coriander, whole seeds, round, ~4 mm
Light brown, golden brown
100 MT (less upon agreement)
1000 MT (more upon agreement)
EXW, Orlovsky,
FOB, Novorossijsk, Azov price upon request
The producing company Soyuz Agro, LLC is glad to offer whole coriander seeds, current year.
Currently more than 1000 metric tons are available at the storage facilities.
The seeds have the following specs:
- purity 96%;
- large in diameter and round in shape, screening is carried out twice for 4 mm;
- light brown, golden brown color.
Traditional (organic) way of growing, combined harvesting with drying is carried out.
The seeds can be used as a spice, for coriander oil production or an added ingredient in foods or recipes.
Minimum order volume is 100 MT. Smaller volumes shall be discussed.
The price is provided upon request per MT under EXW, INCOTERMS 2010.
The storage facilities are situated in Orlovsky settlement (200 km from Rostov, 500 km from Novorossiysk Sea Port). There is a railroad terminal «Dvoynaya» and a pack-house near the storage facilities. Trucks can be used for bulk transportation as well.
Coriander, current year (whole seeds, round, large, light brown, golden brown)
Russian (Rostov region, Orlovsky district)
Impurities less 4%, certification upon request, preliminary lab studies are carried out
1000 MT (metric tons) in bulk, any packaging ++price
Delivery terms and conditions
EXW (ex-works), Orlovsky settlement of Rostov region, INCOTERMS 2010, FOB under agreement
LC from a known bank, TT, direct transfer to the seller's account, cash, any other under agreement
Upon request under EXW (Orlovsky settlement, Rostov region)
We are building long-terms cooperation so we are ready to discuss every point of the offer individually.

Agricultural products from Russia directly from the producer.
Soyuz Agro, LLC, Rostov region, 2018 (с). All rights reserved.
Soyuz Agro, LLC - crops growing and wholesale: wheat, barley, linseed, rapeseed, sunflower, coriander. Meat and milk production. Farming and harvesting vehicles, bulk playground close to the railway station Dvoynaya, storage facilities for grains in Orlovsky settlement of Rostov region. Any information over the website shall not be treated as business proposal in terms of the Law.
Contact Us
International Business Development
Mr Dmitriy Panasenko
+7 926 686 26 92
rostovagrorussia (at) gmail.com
skype: soyuz.agro